---
Sow green hope and build a beautiful new factory garden
---
Spring returns to the good earth., the recovery of all things, is a tree planting day, in response to the call of the government to take practical action to implement the development of the concept of innovation, harmony, green, development, sharing, persevere, a long time for the power to promote the construction of ecological civilization, the practice of green Nantong, golden shares organize the theme of "green sow hope the new plant planting activities to build a beautiful garden", let the staff to experience the joy of labor for planting, city greening construction contribution.
Jin Guanxin, the factory is located in Nantong Gangzha City Economic Development Zone, is regarded as one of the provincial key projects, the project by the local governments at all levels attach great importance to the leadership and support projects to promote the speed record of Gangzha district construction project, after the project is completed, will form an annual output of 30000 car intelligent parking equipment scale, will also become an important milepost the history of the development of the golden shares.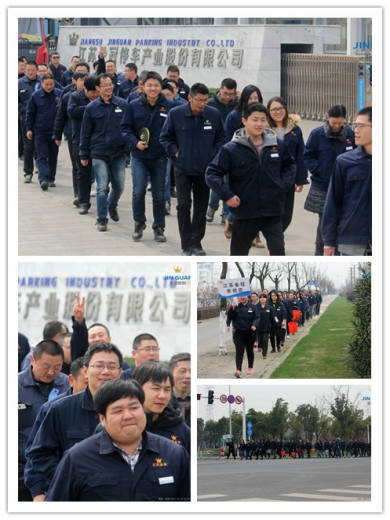 On the day of the event, the Golden Delicious employees walked to the new factory area on foot and marched all the way with uniform ranks, which fully displayed the energetic spirit and good quality of the Golden Delicious people!
Arrive at the new factory, all the staff a clear division of labor, work together to move the tree digging watering and pruning, carry out their duties, roll up your sleeves and go. The energetic spirit of the crowd pushed the atmosphere of the whole activity to a climax!
Tree planting is completed, we hung the sustenance of wishes and blessings to you in the branches of trees on the nameplate, the Yi Keke planted hope, for the new factory add a touch of spring green! Finally, we took a group photo taken for the Arbor Day event completed a complete stop!